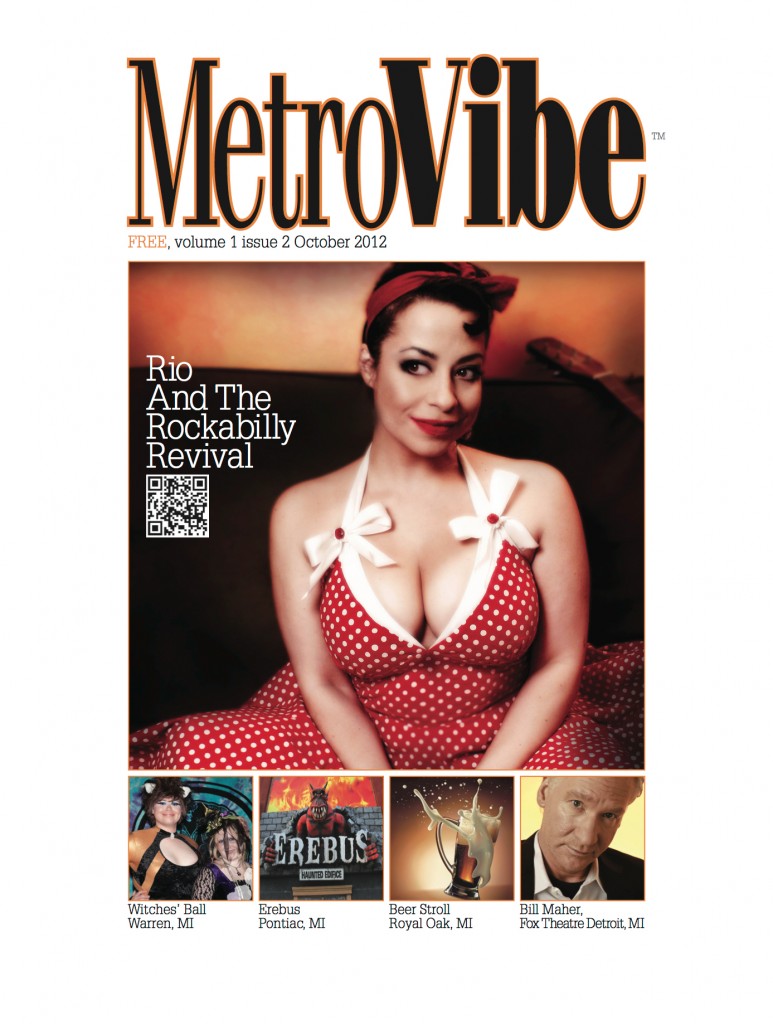 MetroVibe music
by Tom Stevens
It's Called "Riockabilly," Fool.
On a 100 degree Sunday afternoon this past August, in a non-descript concrete block industrial building just off 8 Mile and Woodward, Rio and her band The Rockabilly Revival were practicing. The amps were cranked, a lone fan was blowing the only cool air to be had south of Nova Scotia, and Rio was dressed in her trademark flouncy red dress with white polka dots accented by a pair of petite black combat boots. Her raven hair was set off by a bosom glistening with sweat like a Gypsy woman ragged on crank, and when she kicked off her number "Save [My] Soul" I must report that despite the pervasive swelter, goosebumps raised on both my arms, and a chill shot up and down my spine.
It's technically rockabilly, but that's like calling King Kong a common chimpanzee.
Remarkably, the band's first gig occurred a scant 15 months ago, in June 2011. To see them, polished by endless practice, driven by Rio's relentless perfectionism, you'd think they'd been together for years. In some ways, they have, if the legacy of Rio's uncle Jack Scott—Detroit's prototypical rock 'n' rolling white boy, who dropped the million-selling single "Leroy" in 1958—is taken into account. In fact, Rio keeps his ancient, original tube amp like some sort of functional altar of rock, parked in the living room of her local home, the one shared with her adoring husband Sean who plays stand up bass in the revue.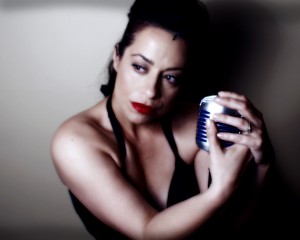 Raised on pasta, meatballs and music from a tender age among a male-dominated Italian family, singing for her supper in her grandmother's basement in Hazel Park, it nonetheless took a geological epoch for her rockabilly obsession to foment: Frothy pop singing and then acting gigs in "Hung," "Detroit 187," sundry Hallmark movies, "Gran Torino," Drew Barrymore's "Whip It," and various and anonymous commercials preceded what seems to be a fortuitous stumble into a splendid genre that had been there all along. Rio wanted something that was purely her own, and rockabilly had been patiently waiting for years. It was a move that was both calculated and purely serendipitous, a rare and wonderful amalgam.
Another previous interlude: Rio did some time on the west coast, where she was offered a record deal by a major label, but only if she would "tone down" her act into some sort of breathy, kittenish kitsch. Having spent some time with Rio, I was not surprised that her answer was, in essential terms, to stuff it. That's what you need to take away from this brief article, that Rio Scafone is a firebrand, a hell-spitting minx whose core, however, is hope and salvation. And, frankly, enough earthy sex appeal to move tectonic plates. Whipping an audience into a frenzy worthy of a revival tent is akin to water rolling off a duck's back for Rio and company.
You may have caught Rio and The Rockabilly Revival on the WXYZ channel 7 stage at the Woodward Dream Cruise, belting out Rumble and Roar, her blistering paen to The Motor City, the automobile and rock itself. More recently the band has been opening up for the likes of Buddy Guy at gigs in Milwaukee's Potawatami Casino, and racking up hordes of European fans through their brilliantly produced YouTube videos. Rio is an astute businesswoman who understands that she must produce a show that astounds—this is a live act, first and foremost—and pick and choose opportunities that showcase the Revival's talent to an ever-widening audience while paying the everyday bills that permit increased touring, performing and recording. In the age of autotune, cratering CD sales and Internet distribution, you might say that Rio and company are creating something that is wildly visceral and spiritually analog, rooted in the awesome power of the moment.
You have got to see her live show. There is nothing else out there quite like it, and let us predict that this glorious babe and her wailing wunderkind are tomorrow's headliners, platinum recording artists and proof that Motown produces talent like no other.
At MetroVibe, we say it's about damn time Detroit proved itself. Again.
www.RioandtheRockabillyRevival.com
https://www.facebook.com/RioRockabillyRevival